News:
   *River Hawk Festival - We will again be making it to RiverHawk  Music Festival Nov. 4-7 in Brooksville, Florida. Come by and check us out!
http://www.lindentertainment.com/General_Pages/newhomepage.htm
    *Summer NAMM - We will be at summer NAMM in booth #1712 with Lazy River Guitars. Come by and say hello!
    *new/old technician on board -  Andrew Allender, who studied instrument repair in our shop when we first developed the Acoustic Feather series back in the 90's , is now part of our manufacturing staff. In the near future he will also be accepting instruments for repair.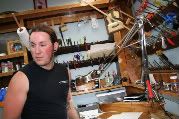 *new models of both types - In the Acoustic Feather series, we have a pickup created for ukulele which has been well received by builders and players alike.
    Our original disc transducers are now being used for a number of difficult to amplify instruments such as sitar, bouzouki and other folk instruments.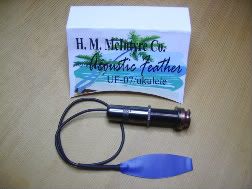 *return to festival scene -  After several years of recovering from our move to beautiful Oak Island, NC, we are again "taking it to the streets" with our booth at various music festivals around the country. We will be at the Riverhawk Music Festival in Brooksville, FL, November 5 - 8, 2009.
          *other music related items - Judy has been a potter for over 6 years now and will have clay artwork of a musical nature offered both on our website and at festivals. Be sure to check out her signature pieces, The Guitar Lady collection.